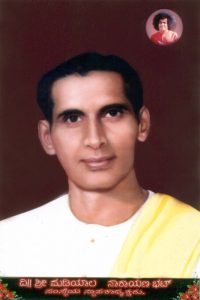 Deeply influenced by this Gurukula system of Education
, Sri Narayana Bhat
, with the help of some dedicated workers, set up two educational institutions at
Alike
and
Muddenahalli
(Kolar Dist.).  Later on, pleased with the dedicated service and the divine mission of
Sri
Madiyala
Narayana
Bhat
and other dedicated and selfless workers,
Bhagawan
formally took over the Institution into His fold in the year
1978
.  It was named as
Sri Sathya Sai Loka Seva Trust
(Regd). From that day onwards,
Bhagawan being the Sole Trustee
of this organisation, has bestowed special care and attention.  After the demise of the founder Sri Madiyala Narayana Bhat (08-01-1977) Swamy took personal care of the two institutions. They have registered a remarkable progress after
Bhagawan Baba
took over these two institutions at His divine fold.