About: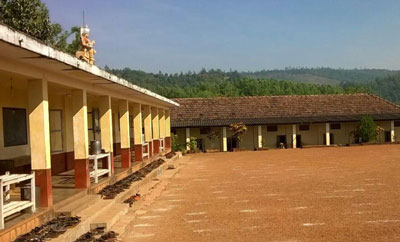 Sri Sathya Sai Loka Seva High School added the lustre to the glitter and glory of Sri Sathya Sai Loka Seva institutions.
Rev. Anna started High School for the poor students with spiritual identity. Now this proud institution is providing education for boys and girls of adjacent villages.This institution was started in 1963, and first S.S.L.C. batch was passed out in 1965-66 with 100% result. Since then Institution has been making its mark in various fields.
Today we have two Campuses, one at "Sharada Vihar" for boys and another at "Vani Vihar" for girls. There are as many as 483 students studying in the campus and out of them 180 are residing in hostel, BALAKUTEER."BALAKUTEER" founded to cater value based education to students from different parts of the state. Students are taught human value along with the curricula so that they will become able leaders, noble citizens.
---
Facilities:
The School is Facilitated with :
Qualified and experienced teaching faculty
Well maintained and sophisticated Science and Computer Labs
Audio- Visual teaching facilities with projectors for interactive learning
Sports and gaming equipments supplied
Vast playground and Basket ball yards etc.
Well maintained classrooms.
Library etc.
---
Hostel:
1. In the hostel, a nutritious, well-balanced and relishable vegetarian food is provided under hygienic conditions, Three items (two items and sprouted cercals) are provided for breakfast and snack is served in the evening along with coffee/tea/malt. A cup of hot milk is served after supper. There will be a special dinner menu on festive occasions.
2. There are vast playgrounds within the campus.[SinglePic not found]
3. Within or adjacent to the campus there are auxiliary facilities such as canteen, bakery, dairy, stationery, laundry, saloon, printing press, a branch of State Bank of India, Post and Telegraphic Office, S.T. D., Zerox Centre, Primary Health Centre, and a General Hospital called Sri Sathya Sai General Hospital.
4. T.V. (with V.C.R. and D.V.D.) for audio-visual education are provided.
5. Well-equipped Physics, Chemistry and Biology laboratories are available.
6. There are teachers for supervising students during study hours.
7. Generators have been installed to provide lighting in the event of electricity failure.
8. Education in the following co-curricular subjects is provided to the desirous students on payment of a fixed annual fee.
a) The Karnataka Classical Music
b) The Hindustani Classical Music
c) Tabla
d) Computer Education