Bhagawan Sri Sathya Sai Baba
Bhagawan Sri Sathya Sai Baba was incarnated in a remote village called Puttaparthi in Anantpur district in Andhra Pradesh in the year 23-11-1926.His parents are Pedda Venkappa Raju and Ishwaramba. As He was incarnated after the performance of Sathyanarayana vow, He was renamed Sathyanarayana Raju.
Proclaiming Himself as re-incarnation of Shirdi Sai Baba, He refused the formal education and set forth Himself for the establishment of righteousness. He has turned this ill-fated village into a piligrimage centre and attracted lakhs of devotees from all over the world. Moreover, Puttaparthi has now become the centre of spirituality, peace and human values.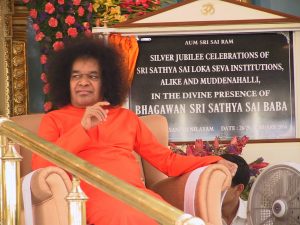 The founder President of this institution Late Sri Madiyal Narayana Bhat was born in the year 30-11-1927. Though he belonged to a rich Brahmin family, he had dreamed of building a cultured and civilized students. For this reason he took up the profession of teaching and served as Headmaster in Vittal High School. As he couldn't realize his dream through this venture he resigned from the post. At that time he came to the divine fold of Bhagawan Sri Sathya Sai baba.
Accepting Him as the incarnation of the age, Sri Narayana Bhat laid all his services to Him. He made Sathya Sai Vihar as the centre of his educational, social and spiritual activities. Accordingly he set educational institutions in Alike in Dakshina Kannada Dist. and Muddenahalli in Chickballapur, Kolar District.
In the year 1976 Sri Narayan Bhat approached Swami to offer his institutions to Him. Talking to him in the interview Swami made historical statement. He said, "Your purpose of coming is over, you can go back". The real meaning of this statement came to light only when Sri Narayana Bhat left his mortal coil on 8-1-1977. When everybody was in grief, Bhagawan sent a telegram that read as follows;
"Narayana Bhat eternally merged in Swami, don't bring the body, Be bold"
Later in the year 1978 Swami as promised, took the institutions to His Divine fold. Since then Swamy has not only cleared all the debts but also brought these institutions to such a height that now it shines with many beautiful buildings and excellent educational records.
Swami also took personal care with regard to the growth of these institutions by visiting both Alike and Muddenahalli.